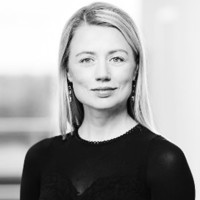 Ann-Sofie Østbjerg Bjergby
Ann-Sofie is the CFO of AKF Koncernen, one of Denmarks largest Real Estate investors, and also serves as a board member and chairman at various companies.
Ann-Sofie started her carreer in Deloitte within audit and M&A advisory. After this, she went to PWC, and became a Senior Manager within the PWC M&A department. She left PWC to become the Group CFO for 600 employees at Sovino Brands, a danish restaurant chain with restaurants all over Copenhagen owned by a Private Equity fund. Due to the Covid 19 crisis, Ann-Sofie made the switch to Real Estate which proved to be a great decision.